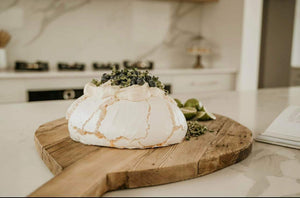 A delicious, homestyle pavlova base that's ready for you to decorate as you please!

A recipe that was passed to me from my late Mum, it got rave reviews whenever she took it to any of our family gatherings!
The large pavlova base is designed to easily feed 12 to 16 people depending how big your servings are.
The base will come with a jar of my home made raspberry coulis and jar of cream ready for whipping. Delicious!
These will be available for collection from 14th Dec right through to 23rd Dec (The bases keep really well for up to a month - storage instructions will be included). Please let me know what date you require pick up either via text, Facebook or Instagram message.